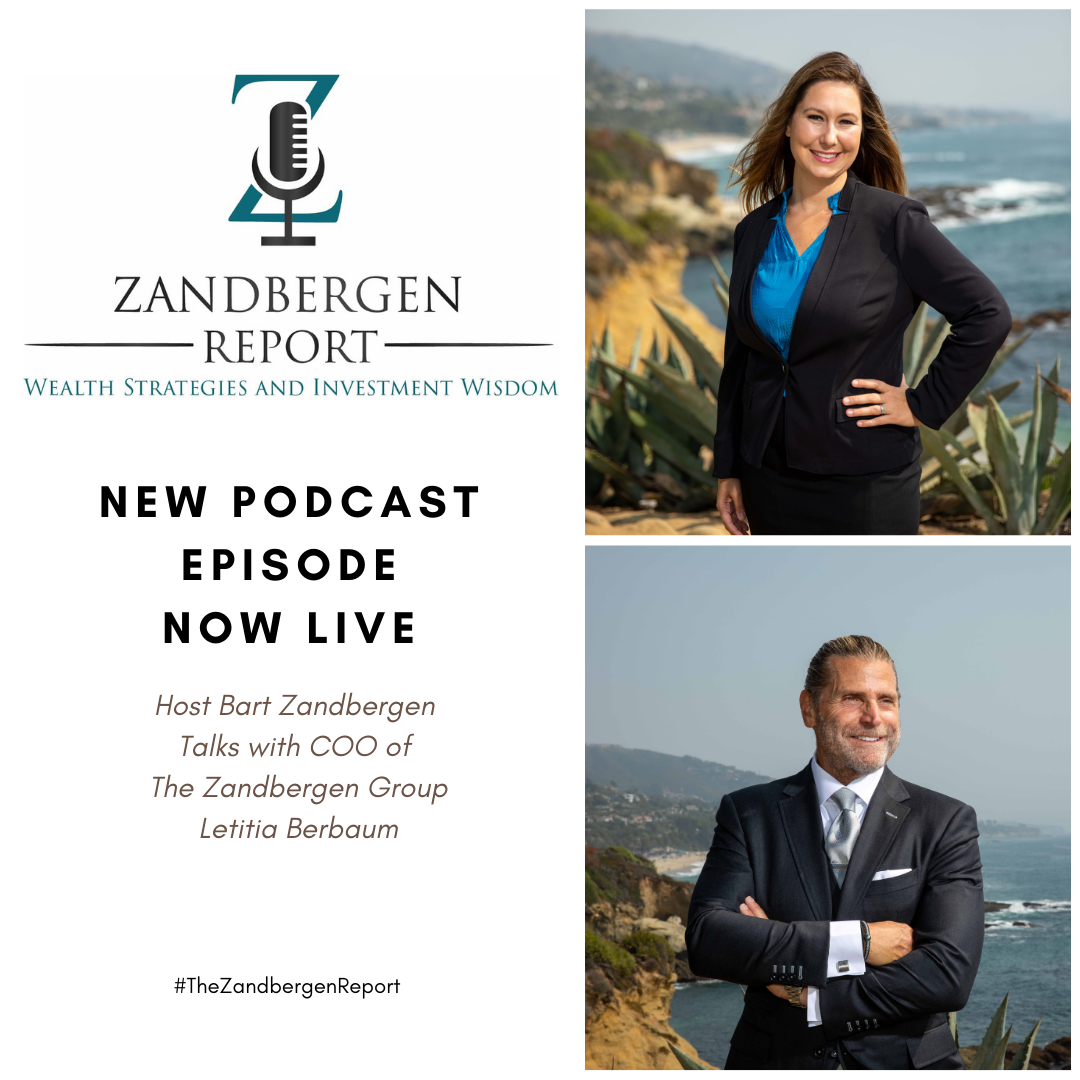 Host Bart Zandbergen was joined in the virtual studio by Letitia Berbaum, COO of The Zandbergen Group, to discuss the goals and vision for The Zandbergen Group in a conversation led by publicist Paula Steurer of Sterling Public Relations. Letitia and Bart share with listeners their passion behind developing their firm and how they are cultivating an inspired team culture through purpose driven leadership. The duo also shares with listeners their tips and tricks for staying grounded in our pandemic impacted society.
In this episode learn:
- Why selecting the right partner in any venture is critical for success
- The vision, philosophy and culture of The Zandbergen Group
- How The Zandbergen Group is elevating client relations
- How developing a synergistic team provides opportunity for all to thrive
The Zandbergen Report, where wealth strategies and investment wisdom collide, is led by host Bart Zandbergen, and is LIVE every Tuesday at 2pm on OC Talk Radio. The show is also available on iTunes, iHeartRadio, Spotify and Stitcher.
Interested in being a guest on The Zandbergen Report? Email podcast@bartzandbergen.com.
Learn more about Bart by visiting www.BartZandbergen.com or www.ZandbergenGroup.com
***
NO OFFER OR SOLICITATION: The contents of this podcast episode: (i) do not constitute an offer of securities or a solicitation of an offer to buy securities, and (ii) may not be relied upon in making an investment decision related to any investment offering Axxcess Wealth Management, LLC, an SEC Registered Investment Advisor. Axxcess does not warrant the accuracy or completeness of the information contained herein. Opinions are our current opinions and are subject to change without notice. Prices, quotes, rates are subject to change without notice. Generally, investments are NOT FDIC INSURED, NOT BANK GUARANTEED and MAY LOSE VALUE. Brokerage services are offered through Tessera Capital, Member FINRA.